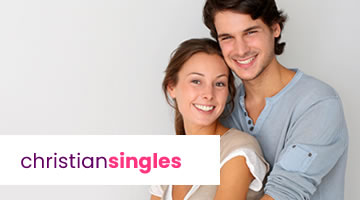 At Find Happy, we believe in tailoring your matchmaking experience to your own unique needs. We understand that one size doesn't fit all. For many of our members, our main dating site offers a wide selection of singles from diverse backgrounds, age groups, and interests, making it the perfect choice.
However, we also recognize that some of our members have specific dating needs, which is why we proudly operate several exclusive sites designed to cater to those preferences. If you're unsure which site suits you best, why not take advantage of our free trial account? You can register on more than one and see which one feels like the perfect fit.
Ready to explore an exclusive Christian dating experience? Sign up now using the link below and let's embark on this exciting journey together!
Christian dating
For Christian singles, shared religious beliefs and values are paramount in partner selection. That's why we created Find Happy Christians, a network tailored to your needs.
Streamline your search for a compatible partner
We believe in making online dating faster and more effective. Our exclusive Christian dating network helps you find compatible singles nearby, saving you from sifting through unsuitable profiles and lengthy questionnaires.
Expand Your Horizons with Online Dating
In today's fast-paced world, meeting fellow Christian singles can be a challenge beyond the confines of church and the workplace. This is where online dating steps in, offering a transformative solution to this age-old dilemma.
Find Happy, as the premier online dating platform, offers a vibrant community of thousands of singles who share your faith and values, eagerly seeking to make genuine, lasting connections.
Embracing online dating opens up a world of benefits that traditional methods simply can't match:
1. Diverse Opportunities: Online platforms provide an array of profiles, giving you access to a wider range of potential partners than traditional avenues, where your options may be limited.
2. Convenience and Efficiency: Online dating eliminates geographical boundaries, allowing you to connect with like-minded individuals nearby or across the globe, all from the comfort of your own home.
3. In-Depth Compatibility: Robust matchmaking algorithms and detailed profiles help you find compatible matches efficiently, reducing the time spent on fruitless encounters.
4. Tailored Experience: You have the power to set your preferences and seek out partners who share your beliefs, interests, and goals, ensuring a more targeted and satisfying dating experience.
5. Communication: Online platforms offer various communication tools, making it easier to get to know someone before meeting in person, fostering deeper connections.
In a world where time is precious and opportunities are limited, online dating emerges as the modern solution to the age-old quest for meaningful, enduring relationships. Find Happy, Christian dating is here to bridge the gap, helping you discover your ideal partner in a vibrant, faith-focused community.
How to start dating as a Christian?
In a world where digital connections reign supreme, finding love and companionship as a single Christian has never been more accessible or exciting.
But how do you navigate this vast sea of possibilities as a single Christian, ensuring that your journey remains rooted in your beliefs and values?
Our insightful online dating blog is here to illuminate the path, offering insights, strategies, and Christian dating advice to help you embark on a faith-filled journey into the world of online dating. Why not create your free Find Happy Christian dating account and see who is online now?
Start dating for free
Like all of our dating sites, basic membership is free and is a great introduction to Find Happy and online dating. Simply complete the quick registration form above to get started. Your details are kept secure and not displayed to other members. Should you decide online dating is not for you (it's not for everyone), we make it easy to cancel your account with no obligation. Should you have any questions or encounter any problems, our friendly customer support team are on hand whenever you need them while our blog is packed with dating and relationship advice from experts.
Facts about Christian Dating
Global Christian Population: Christianity is one of the largest religions in the world. As of 2021, it was estimated that there were approximately 2.3 billion Christians worldwide, making up about 31% of the global population.

Denominational Distribution: Christianity is diverse, with various denominations and branches. The largest Christian denomination is Catholicism, followed by Protestantism and Eastern Orthodoxy. There are also numerous smaller Christian denominations and independent churches.

Online Dating among Christians: Online dating has become increasingly popular among Christians seeking romantic relationships. A study by the Pew Research Center in 2019 found that 28% of Christians in the United States had used online dating platforms or mobile apps to meet potential partners.

Faith Importance in Relationships: For many Christian individuals, faith is a crucial factor in their romantic relationships. According to a survey by the Barna Group in 2017, 64% of practicing Christian singles said that their faith is the most important factor in their dating life.

Marriage and Divorce Rates: Christian couples often aim for lifelong marriages. Research has shown that Christian marriages have a lower divorce rate compared to the general population. Factors such as shared faith and values contribute to the stability of Christian marriages.

Church Attendance: Regular church attendance is a common practice among Christians. A Pew Research Center study in the United States found that about 45% of Christians attended church services weekly in 2019.

Long-Distance Relationships: With the advent of online dating, Christians are more likely to engage in long-distance relationships. This allows them to connect with potential partners who share their faith and values, even if they live in different regions or countries.