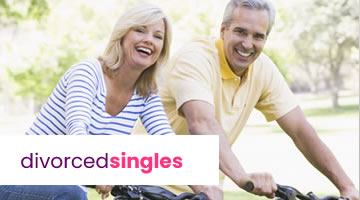 Whether you're divorced, separated, or simply single and searching for that special someone, we've designed our platform to cater to a variety of preferences.
For many divorced singles, the focus is firmly on the future, and they're eager to dive into the vibrant dating scene within our expansive database of singles spanning all ages and backgrounds. It's an opportunity to connect with a wide array of individuals who share the common goal of finding happiness anew. On the other hand, some find solace in the more intimate environment provided by our dedicated dating site for divorced singles. Here, they can take comfort in the fact that fellow members share a similar life story, creating a sense of kinship that can be profoundly meaningful.
At Find Happy, our commitment is to offer you choices that align with your unique path and preferences, ensuring that your journey to happiness is as individual as you are. Join us today and discover the perfect fit for your dating adventure.
Select a dating site for you
Divorced Dating
Embarking on the journey of dating after a divorce should feel like a natural and empowering progression. We understand that everyone desires to move forward in life, seeking happiness regardless of past relationship experiences. However, we recognize that for many divorced singles, re-entering the dating scene can be quite a challenge.
The truth is, that forging new connections can feel daunting. Your social circles may have shrunk, predominantly consisting of friends in committed relationships. You might find yourself at a crossroads, uncertain about the right path to take. This is where Find Happy steps in to make a positive impact on your life through our thriving dating networks.
Our specialized dating platform for divorced singles provides the ideal avenue to reintegrate into the dating world. Here, you'll find kindred spirits who have navigated similar life experiences, forging connections that resonate with your journey.
If you've been out of the dating loop due to a recent divorce, you might feel like online dating has passed you by. Chances are, you were accustomed to traditional dating methods before meeting your former partner. Moreover, your friends of a similar age may not have much insight to offer when it comes to online dating. This might lead to the pivotal question on your mind: What's it really like to date online?
Firstly, we won't deny it - a surge of nerves often accompanies the transition. Going from being part of a committed partnership to embracing singlehood and venturing into the realm of online connections, apps, and strangers accessing your personal information can be overwhelming. However, as you begin to explore the multitude of benefits that online dating offers - of which there are many - you'll discover that your online dating journey, despite its initial apprehensions, is an exhilarating adventure filled with endless opportunities and enjoyable experiences.
Meet divorced singles with Find Happy
At Find Happy, we're here to guide and support you every step of the way as you embark on this exciting chapter of your life. Join us today and rediscover the joy of dating, where the possibilities are endless and the fun is boundless. Your journey to happiness after divorce starts here.