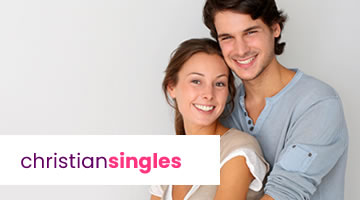 We don't believe in a 'one size fits all' approach when it comes to matchmaking. For many of our members, our main dating site is the right choice for them. If you are looking for a wide selection of singles from diverse backgrounds, age groups and interests, our popular general dating site is likely to be the site for you. Some of our members however, have more specific needs when it comes to dating which is why we also operate several more exclusive sites catering for the needs of such members. If you are unsure what site is right for you, why not take advantage of our free trial account and register for more than one and see which site feels right.
Sign up for our exclusive over Christian dating site using the link below.
Christian dating
For many Christians, finding someone who shares the same religious beliefs and values is a high priority when looking for a partner. Religion can be a key factor when looking for a partner. Finding someone with the same religious beliefs and values is important to many of our Christian members which is why we introduced our dedicated Christian Dating network - Find Happy Christians.
We believe that making online dating faster and easier, you are more likely to find a compatible partner. By creating an exclusive Christian dating network we make it easy for Christians to find compatible singles near them without wasting time searching and filtering thousands of unsuitable members or completing long questionnaires or dull personality tests.
Like all of our dating sites, basic membership is free and is a great introduction to Find Happy and online dating. Simply complete the quick registration form above to get started. You personal details are kept secure and not displayed to other members. Should you decide online dating is no for you (it's not for everyone), we make it easy to cancel your account with no obligation. Should you have any questions or encounter any problems, our friendly US based support team are on hand whenever you need them while our blog is packed with dating and relationship advice from experts.