This may be where you start looking rather worriedly at the list below, especially if you live in High Wycombe. The Buckinghamshire home town of Fern Britton just got thrust into the limelight as the most adulterous in Britain by a new survey of cheating hotspots.
The town, home to just over a hundred and twenty thousand souls, apparently has over two thousand of them cheating on their spouses, both husbands and wives. Second place went to Guildford with just over two percent of the population identified as cheats – some 1,250 people. The nearby towns of Aldershot and Maidenhead came in at third and sixth places.
What Do They Have In Common?
The uniting factor in the highest placed towns seems to be their affluence as wealthy places in the South of England. By way of contrast, and shattering myths about Essex boys and girls promiscuous tendencies, Brentwood came last.
Scotland peaked at fifth place with Cumbernald, with Beeston in Nottinghamshire at fourth and the Northern cargo port of Runcorn placing in seventh place. If you're wondering about Wales, well their highest ranking came in at 55 with Wrexham, suggesting that couples across the Principality are less likely to stray than anywhere else in the UK.

Where Did These Figures Come From?
The table of the top one hundred adulterous towns was compiled by IllicitEncounters.com, which is a dating website focused on married people. Its figures are based on its figures on the numbers of Britons cheating and using its services. As it started up over thirteen years ago, more than a million people have registered with them, with a surge in membership over the last five years.
According to IllicitEncounters.com, some 20,000 people are having affairs each week through their site. They cite increasing popularity in commuter towns like the ones mentioned above, and claim that the rapid increases in house prices have made divorces less attractive as an option to couples that aren't working out. They would rather carry on unhappily than try and set up two homes.
The site claims that they provide an outlet for men and women and that they would have an affair whether or not the site existed. What they offer is the assurance of meeting someone like-minded who wants some excitement without upsetting their home life.
Users of the site agree – claiming that the commuter belt is a perfect place to find bored rich business men and women who want the excitement of a change in their routines without losing the safety of what they already have. They don't want divorces, and adore their spouses, but find there just isn't any sexual spark any more.
The list seems to bear this out.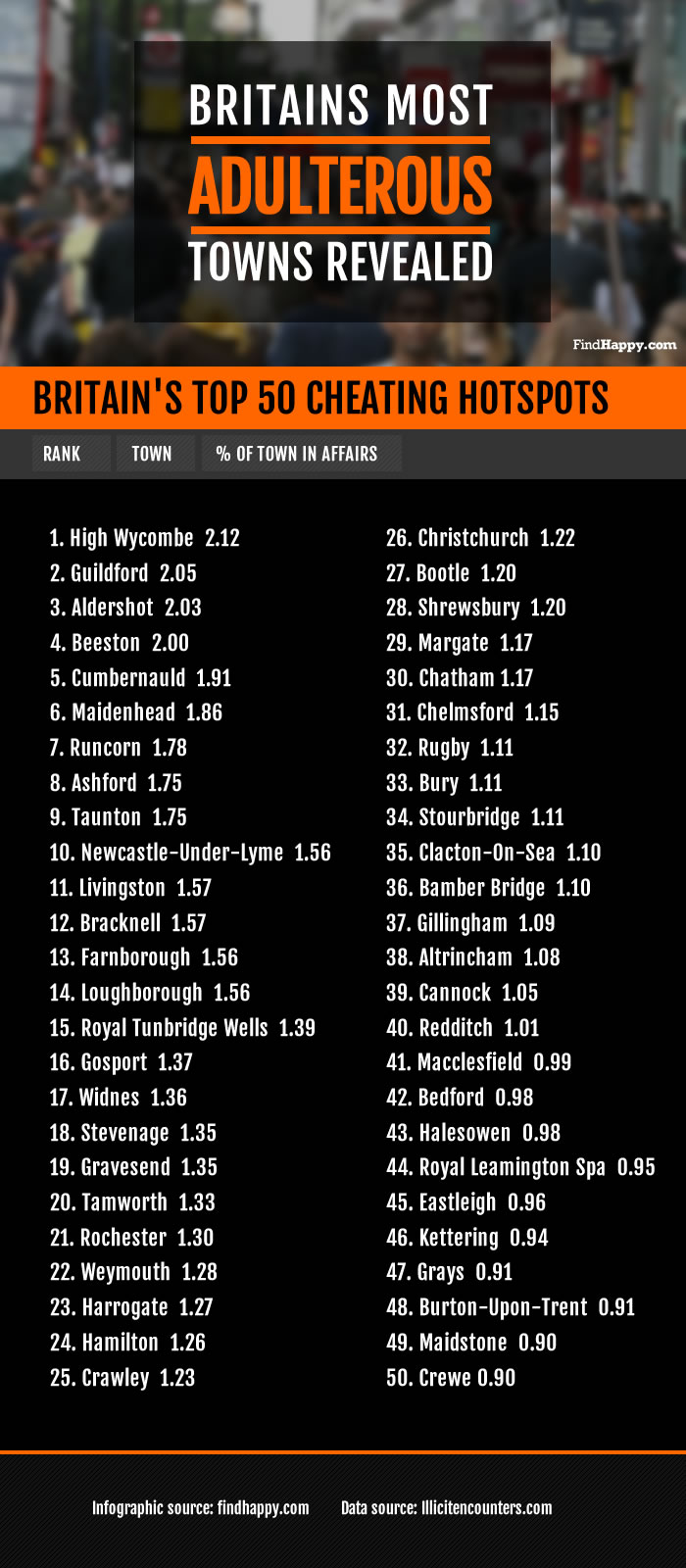 Please feel free to share this infographic. If you use it you must credit Find Happy with a link back or just copy the embed code below.

<a href="http://www.findhappy.com/blog/britains-most-adulterous-towns-revealed/"><img src="http://www.findhappy.com/blog/wp-content/uploads/2016/03/britain-affairs-infographic.jpg" alt="Britains most adulterous towns by Find Happy"/></a><p>Credit <a href="http://www.findhappy.com" title="Find Happy Dating">Find Happy</a>